You all know how it's been; Ever since Kanye "…so the world could feel his pain!" West blew up the rap scene in 2004 with his debut record The College Dropout, the conscious rap that the likes of Aceyalone, Common and Talib Kweli have been rapping over the last decade took on a whole new look, feel and level: now, not just conscious but self-conscious, much of popular rap has flipped its script and went introspective and retrospective. It's gone from self-appraisal to self-abasement, from Diddy "Bad Boy for Life" to Drake "What Am I Doing?".
Bar a few exceptions (e.g. Lil Wayne), even the most pompous of rappers now remember to keep their self-awareness in view – who would imagine Black Album-era Jay-Z, notwithstanding the Nirvana reference, calling himself "stupid and contagious"?
But where Kanye West has dealt with the god complex, newer off-radar rappers have taken the self-conscious rap ideology to a whole new different level, not just identifying but even embodying mental issues and disorders within their sound and image.
Driven by the near-inevitable rapper's drug addiction, Danny Brown personifies his ailments into his music, flipping his voice from the deliriously high-pitched peak-outs to the painfully sober down-lows, as he raps between (in the former voice) literally shitting all over recording booths and (in the latter) trying to smoke his depression away. And as much as Childish Gambino may deny it, his Instagram letter antics, coupled with his Because the Internet album cover .gif, paint a picture of a comedian's tragically ironic depression.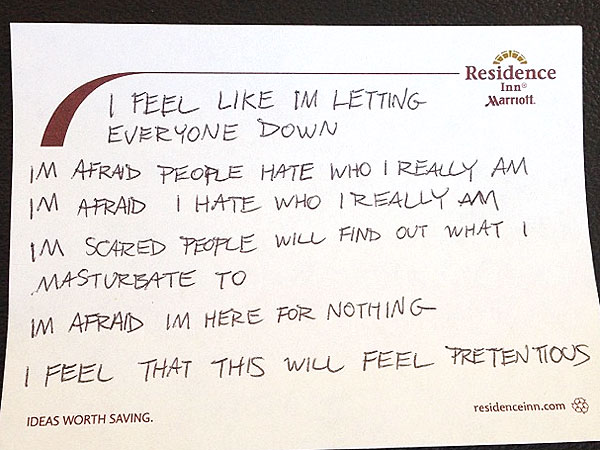 And they're not even the best examples. The still-marginally-controversial Odd Future ring leader Tyler, the Creator, despite all his current wild successes and fame, started off as a spitefully maniacal teenager murderously angry at the world for… what, exactly? The answer is explicit in Tyler's Wolf cut 'Answer' – his dad "not being there fire-started [Tyler's] damn career". Like Eminem before him, Tyler's depression and frustration was cultivated by a troubled childhood. But much unlike Eminem, Tyler's rage-fuelled stories delved into rape and (right after that) cannibalism.
Despite all the grotesque imagery (or because of it), misunderstood, antisocial teenagers from around the world found, perhaps, or hopefully, not relation, but understand where he's coming from, and understand they could very well, harbouring at the deepest recesses of their fucked up minds, have such dark thoughts themselves.
[youtube width="457″ height="343″]http://www.youtube.com/watch?v=aW2lDWAIcwc[/youtube]
[spacer height="10px"]Actually, psychologically, depression tends to lead to extreme tiredness, or not wanting do anything at all just about forever. Modern hipster-hop has got that covered too, in the 16-year-old white Swedish rapper Yung Lean, who, with producers Yung Sherman and Yung Gud, form Sad Boys. They try to pit a Main Attrakionz-esque flow with cloud / trill / trap beats and end up sounding like a not-so-wild-for-the-night A$AP Rocky.
In fact, even though they usually rap about getting bitches / doing drugs, Yung Lean's not-even-trying delivery and the accompanying clouded beats come across as more passive-aggressively… sad. Yung Lean even says it himself on 'Lightsaber // Saviour': "I'm on the floor crying, crying / Why do I gotta be alive / I ain't about that life / I ain't about that life".
That's not to say they're all lame – along with their vaporwave-influenced image, Sad Boys are at the forefront of what's cool in the post-swag landscape, the next big are-you-serious thing in rap after Das Racist's 'Combination Pizza Hut and Taco Bell', where the medium is the message and not much else at all. And what's the message? Beats me, but they're definitely reflecting a group of fashionably depressed Tumblr-core hipsters who constantly nod back to their childhood with 90's cartoon .gif's and Windows 98 screen-savers.
[youtube width="457″ height="343″]http://www.youtube.com/watch?v=stgrSjynPKs[/youtube]
[spacer height="10px"]The most extreme and prominent example however, would be the Sacramento hip-hop (?) act Death Grips. While some claim that their brand of industrial-influenced rap has already been done by experimental hip-hoppers dälek, they miss the vital difference that really defines Death Grips, which is their schizophrenia-induced (or -inducing!) sound, cultivated mainly through, among the dissonant production, MC Ride's mad pseudo-rap screams, which at times recall an unkempt homeless man's incessant word salads.
In Death Grips' lyrics (made accessible through the band's uploading of accompanying lyrics in their YouTube video descriptions), we see lines like "Cobra spit over apocalyptic cult killer cauldron smoke", or "World of dogs gone mad / Above the law in your ass / Fire trash meltdown I'm not here / I'm world of dogs infrared".
Of course it could all be an act, and of course all those word mishmashes could provide some insight, but that doesn't discount the image that Death Grips give off. It's clearly disturbed music and a clear-cut case of mental disorders being channelled through the highly-malleable, highly-personalised medium of hip-hop.
[youtube width="457″ height="343″]http://www.youtube.com/watch?v=y2cQvZPX3OY[/youtube]
[spacer height="10px"]Rap has always been the message of the masses, reflecting the social attitudes of the people themselves. So when personal issues become bigger, more worldly relatable problems than the political conflicts of Public Enemy or the oppressed rage of N.W.A., what more mental issues and debilitating sensations could we see becoming more prominent in the field? ADHD? Nausea? Insomnia? Or even, allegedly, Asperger's syndrome?
Whatever way it is, these examples are evidence that hip-hop continues to evolve, even more so than other genres, into not just different sounds, but different psychological states of mind. That's probably what makes hip-hop what it is today – relatable on all fronts, or, in Yung Lean's words: "so real you can call me reality" – or perhaps, has it always been that way and not just today? Check out this list of rappers with mental disorders. Or this Wikipedia article on how mental disorders can lead to creativity. Even Lil Wayne insists, "Muthafucka I'm ill". And in spite of the connotations of their lingo, maybe they all are indeed.
By BJ Lim